Another great week for NFL football, with plenty of games having a great deal of playoff implications.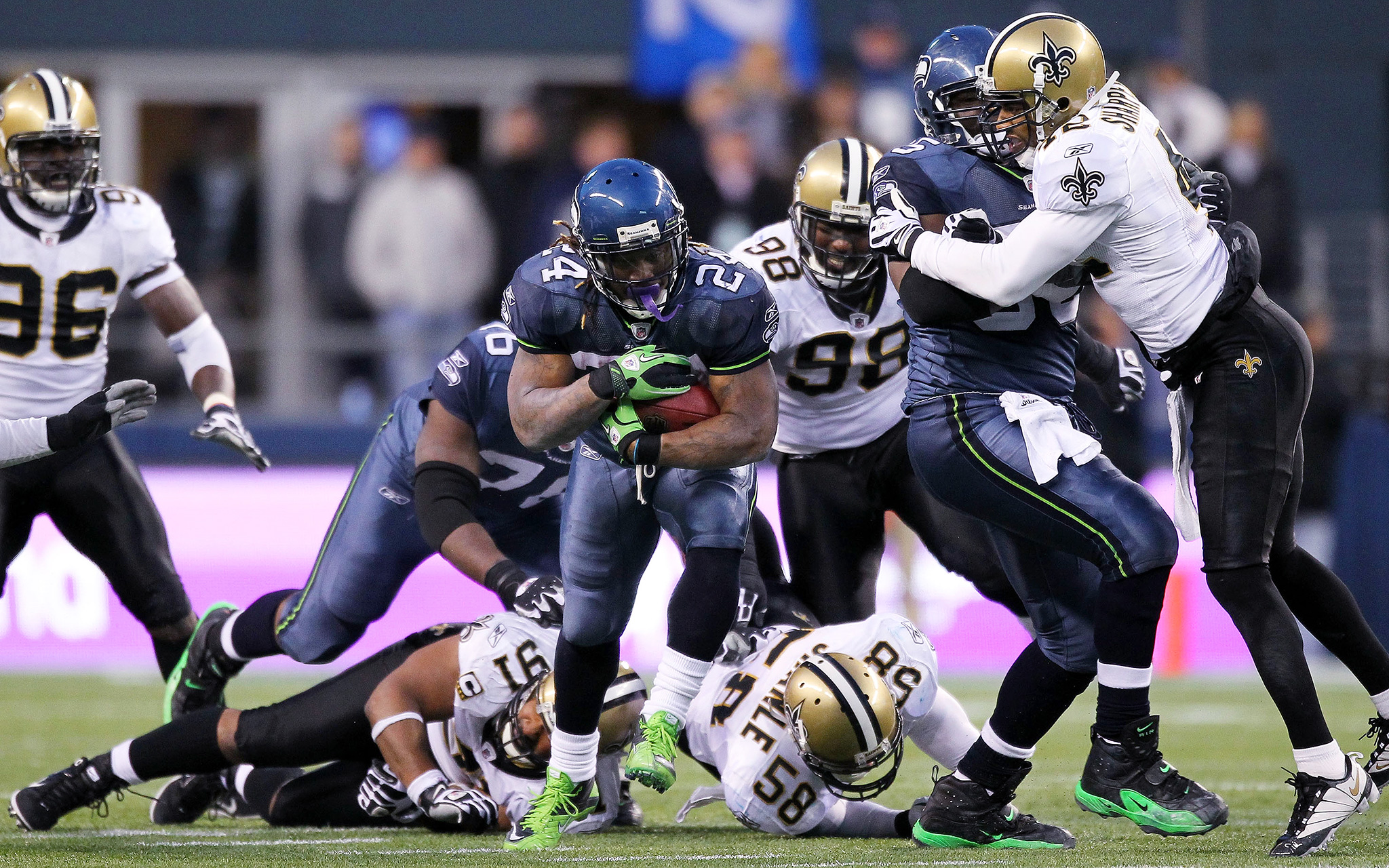 But wait, there's more:
the Saints play Seattle
in an NFC showdown Monday night

Early Games
AFC
1. Denver (9-2) at Kansas City
If the Broncos win that would give them a sweep over the Chiefs, in essence a two-game lead in the AFC West. In order to retain the number one seed they probably need to win their five remaining games, as they would lose a tiebreaker with the Patriots. A loss drops them a game behind KC, and into the number five seed unless the Chiefs lose again.
2. New England (8-3) at Houston
As mentioned above the Patriots can take over the number one seed with a win and a loss by the Broncos. If the Pats lose they could drop to the number four spot, as the Bengals would have a higher seed based on their victory over the Pats, and the Colts would have a better conference record. Even with a loss the Pats would still have at minimum a two-game lead in the AFC East over the Jets and Dolphins.
3. Indianapolis (7-4) vs Tennessee
The Colts need a win to not only keep pace with the Pats, but to stay ahead of Cincinnati for the number three seed. In addition a loss would open up the door for the Titans in the AFC South, reducing their division lead to just one game.
4. Cincinnati (7-4) at San Diego
The Bengals could vault to as high as the number two seed with a win, and losses by the Patriots and Colts. A loss jeopardizes their number four seed though, as that puts them just one game ahead of the Ravens for the AFC North crown.
5. Kansas City (9-2) vs Denver
A victory puts the Chiefs back in first place in the division with the number one seed in the conference; a loss means Denver sweeps the series, meaning they would have to count on the Broncos losing twice in the final four games to win the AFC West. The Chiefs still have games remaining against the Colts and Chargers, but with a three-game lead the number five seed at minimum is secure.
6. Baltimore (6-6) defeated Pittsburgh 22-20 Thursday
The Ravens opened up what is for the moment a half game lead over four teams for the final playoff spot, and improved their conference record to 6-4.. More importantly they are now a game ahead of the Steelers, and they avoided a sweep which could come into play in tiebreaker scenarios. The Ravens defeated the Bengals three weeks ago, possibly setting up a win or go home scenario in week 17 when they play at Cincinnati.
7. Tennessee (5-6) at Indianapolis
The Titans are somehow still in good position in the playoff race, for either a wild card spot or the division. Tennessee can close within one game in the AFC South with a victory, and improve their conference record to 5-4. With a loss the division is unrealistic as Indy would win a tiebreaker based on sweeping the head to head series; it would also drop them a game and a half behind Baltimore in terms of conference record.
8. San Diego (5-6) vs Cincinnati
Their victory over the Chiefs put the Chargers right in to the mix for the final playoff spot, and with four of their final five games at home San Diego has a very legitimate chance to make the playoffs. The downside is that they have a tough schedule, starting with the Bengals, then at Denver two weeks from now, and then home versus the Chiefs in week 17. There is a good chance that the Chargers are going to look back to their week five loss to the Raiders with serious regret.
9. New York Jets (5-6) at 10. Miami (5-6)
The winner keeps their playoff chances alive, while the other can officially start focusing on 2013. Neither team seems to have what it takes to make the playoffs, and both are in a bad position regarding tiebreakers.
NFC
1. Seattle (10-1) vs New Orleans
A victory all but clinches the number one seed in the NFC. With a three-game lead in the NFC West, the Seahawks have the division virtually wrapped up regardless of what happens, and even if they lose they would still have a three game lead over any other team for at least the number two seed.
2. New Orleans (9-2) at Seattle
The Saints would take over the number one seed in the NFC, ahead of the Seahawks based on winning head to head. In addition New Orleans would remain ahead of Carolina in the NFC South by at least one game. A loss not only makes the number one seed unrealistic, but it also threatens their hold on the division, which seemed insurmountable just a few weeks ago.
3. Detroit (7-5) defeated Green Bay 40-10 on Thursday
The Lions may be inconsistent and undisciplined at times, but they looked like a juggernaut to be feared on Thanksgiving. Right now Detroit claims the number three seed based on their 31-30 week eight victory over Dallas. The Lions remaining schedule has all winnable games that at the same time could go either way: at Philadelphia and Minnesota, and home against the Ravens and Giants.
4. Dallas (7-5) defeated Oakland 31-24 on Thursday
Slowly but surely it looks like the Cowboys will come out on top of the NFC East, though there is still plenty of time for that to change. Dallas travels to Chicago next Monday night, then hosts Green Bay before finishing up with division games at Washington and home versus the Eagles.
5. Carolina (8-3) vs Tampa Bay
With seven straight victories the Panthers have leapfrogged the 49ers for the number five playoff spot, and are within one game of the Saints for the NFC South. Two games against New Orleans over the next three weeks will determine that division with the other team relegated to a wild card spot. The Panthers can't afford to look past the Bucs though, as a loss and wins by San Francisco and Arizona would drop them to the number seven spot.
6. San Francisco (7-4) vs St. Louis
The 49ers could move to within two games of Seattle in the NFC West with a win and a loss by the Seahawks; that would set up a critical home game next week against the Seahawks. A loss could drop them to the outside looking in, as there are three teams within one game of the Niners heading into Sunday's games.
7. Arizona (7-4) at Philadelphia
This game is flying under the hype radar this week, but it has profound ramifications for both clubs. The Cardinals could move into a tie for fifth with a win and losses by Carolina and San Francisco, or they could drop into a tie with Chicago for 8th place with a loss and a victory by the Bears.
8. Philadelphia (6-5) vs Arizona
The Eagles need a win to remain tied with Dallas, possibly setting up a week 17 game against the Cowboys for the NFC East. A loss would likely drop them two games out of the race for a wildcard spot, so they need a victory to keep that alive as well. Philly's remaining schedule is home versus Detroit, at Minnesota, home versus Chicago and at Dallas.
9. Chicago (6-5) at Minnesota
With a 3-5 conference record, the sole path for the Bears to the playoffs is likely as division champs. A victory puts them in a first place tie with Detroit in the NFC North, while a loss puts them one game behind in the division and probably two back for a wild card. Remaining games are versus Dallas, at Cleveland, at Philadelphia and home against Green Bay.
10. Green Bay (5-6-1) lost to Detroit 40-10 on Thursday
The Packers have dug themselves in a hole; a wild card spot is highly unlikely as they will probably be 2½ games behind with just four to play after Sunday's games. The best they can finish is 9-6-1, so they have to count on both Detroit and Chicago losing at least two games apiece. Green Bay's remaining schedule is home versus Atlanta, at Dallas, home versus Pittsburgh and then at Chicago.
11. St. Louis (5-6) at San Francisco
This is one of those games that counts twice, as it pulls the Rams closer to a playoff spot with a win while also dropping a team ahead of them down. Best case scenario for St. Louis is a victory and losses by Arizona and Chicago; that would put them one game for the final playoff spot.
12. New York (4-7) at Washington
Thanks to playing in the NFC East, the Giants are the one team in the NFL with a 4-7 record that still has a chance of making the playoffs. With both Dallas and Philadelphia ahead of them they will need lots of help, but it's not out of the realm of possibility thanks in part to two games remaining on their schedule against the Redskins. Their issue however is the rest of their schedule: at San Diego, home versus Seattle, and at Detroit. A win here just prolongs the agony before the Giants are officially eliminated.
Early Games on CBS
New England Patriots (8-3) at Houston Texans (2-9)
The Patriots are on the road, coming off consecutive games against very good NFL teams and arguably their biggest rival last week; that means there is the very real possibility of a letdown in a classic trap game against a team that has far more talent than their record would indicate. Houston has no running game (which is a relief), so the priority for New England will be to cover Andre Johnson. Case Keenum doesn't seem to be able to handle a blitz, unable to find his hot read in those situations. Although he can scramble and throw on the run, the Patriots are a very disciplined team in terms of containment and gap integrity. Keenum likes to run bootlegs on play action passes and he like to throw the ball deep; the problem is that neither of those plays work well in the red zone.
Pick • Patriots 27, Texans 20 ✔
Texans +7½ ✔
Under 47½ ✘
Final Score: Patriots 34, Texans 31 … Houston covers by 4½ … over by 17½
Tennessee Titans (5-6) at Indianapolis Colts (7-4)
In the last three weeks Andrew Luck has thrown two touchdown passes while committing five turnovers. The Titans were given up for dead after losing five of six games with their loss to the Colts two weeks ago, but they're right back in the driver's seat for a playoff spot after last week's victory at Oakland. Indy has given up 162 points in their last five games.
Pick • Upset: Titans 31, Colts 27 ✘
Titans +4½ ✘
Over 44½ ✘
Final Score: Colts 22, Titans 14 … Indianapolis by 3½ … under by 8½
Jacksonville Jaguars (2-9) at Cleveland Browns (4-7)
The one thing the Browns had going for them was their defense, but can that still be said after allowing 68 points in their last two games?
Pick • Upset: Jaguars 20, Browns 17 ✔
Jaguars +7 (one unit) ✔ +100
Under 40½ ✘
Final Score: Jaguars 32, Browns 28 … Jacksonville covers by 11 … over by 19½
Miami Dolphins (5-6) at New York Jets (5-6)
Ed Reed wants Fireman Ed to return; does he think he can play quarterback? Geno Smith hasn't thrown a touchdown since the Jets played the Patriots, which seems like months ago. Smith's completions have been in the single digits in three straight games, he has thrown seven picks since his last TD, and on the season has turned the ball over 25 times.
Pick • Upset: Dolphins 24, Jets 17 ✔
Dolphins +3 (one unit) ✔ +100
Over 38½ ✘
Final Score: Dolphins 23, Jets 3 … Miami covers by 23 … under by 12½
Early Games on FOX
Tampa Bay Buccaneers (3-8) at Carolina Panthers (8-3)
The Bucs would love to exact some revenge for their worst game of the year, when they lost at home 31-13 to Carolina in week 8. The Panthers are on fire right now with their defense clicking on all cylinders, and they're not going to look past a division rival. The Bucs are playing well enough to keep this game interesting though.
Pick • Panthers 24, Bucs 20 ✔
Bucs +8 ✘
Over 41 ✘
Final Score: Panthers 27, Bucs 6 … Carolina covers by 13 … under by 8
Chicago Bears (6-5) at Minnesota Vikings (2-8-1)
Looking beyond last week's results (the Bears lost at St. Louis by 21 and the Vikings tied the Packers at Lambeau), Chicago is still the better team – despite all their injuries. Neither defense is very sound, so this should in theory be a relatively high scoring game.
Pick • Upset: Bears 27, Vikings 24 ✘
Bears +1 (one unit) ✘ -110
Over 49½ ✘
Final Score: Vikings 23, Bears 20 in OT … Minnesota covers by 2 … under by 6½
Arizona Cardinals (7-4) at Philadelphia Eagles (6-5)
Arizona's defense is the real deal, and although it took a half a season, Carson Palmer is finally figuring out Bruce Arians' offense. Nick Foles has been incredible with 16 touchdown passes and not a single interception, but the Eagles still have major issues on defense.
Pick • Upset: Cardinals 27, Eagles 24 ✘
Cardinals +3½ (one unit) ✔ +100
Over 48 ✘
Final Score: Eagles 24, Cardinals 21 … Arizona covers by ½ … under by 3
Late Games on CBS
Denver Broncos (9-2) at Kansas City Chiefs (9-2)
To paraphrase Denny Green, the Chiefs are what we thought they are: a good, but not great team. Tamba Hali does give Kansas City a boost as it looks like he will play, but LB Justin Houston is out. Unfortunately for the Chiefs they get Denver a week after they looked bad on national television, wanting to erase that game from everyone's memory.
Pick • Broncos 34, Chiefs 24 ✔
Broncos -5 (two units) ✔✔ +200
Over 49 (one unit) ✔ +100
Final Score: Broncos 35, Chiefs 28 … Denver covers by 3 … over by 14
Cincinnati Bengals (7-4) at San Diego Chargers (5-6)
I'm sold on the Cincy defense, and not at all sold on San Diego's D. On the other hand Andy Dalton has been erratic, and it's tough travelling across three time zones for a win.
Pick • Upset: Bengals 24, Chargers 20 ✔
Bengals +1½ ✔
Under 48½ (one unit) ✔ +100
Final Score: Bengals 17, Chargers 10 … Cincinnati by 8½ … under by 21½
Late Games on FOX
Atlanta Falcons (2-9) at Buffalo/Toronto Bills (4-7)
In five road games this year, Matt Ryan has a 70.2 passer rating and 11 picks (versus eight touchdowns); watching them play lately it seems as if the team has given up. Now they go to Buffalo to face Jairus Byrd and a Bills defense that had three picks last week.
Pick • Bills 24, Falcons 17 ✘
Bills -3 ✘
Under 47½ (one unit) ✘ -110
Final Score: Falcons 34, Bills 31 in OT … Atlanta covers by 6 … over by 17½
St. Louis Rams (5-6) at San Francisco 49ers (7-4)
The Niners offense looked very good last week, though much of that may had to do with their facing Washington's defense. After a 2-6 start in which they were often being blown out early, the Rams have looked impressive with victories over the Colts and Bears. St. Louis has rushed for 398 yards in the last two games, and Tavon Austin has made multiple highlight reel plays to quiet his doubters.
Pick • 49ers 27, Rams 20 ✔
Rams +8 ✘
Over 40½ (one unit) ✘ -110
Final Score: 49ers 23, Rams 13 … San Francisco covers by 2 … under by 4½
Night Games
New York Giants (4-7) at Washington Redskins (3-8) on SNF
The Giants have had a bit of a resurgence, but will be without Jason Pierre-Paul in this game. Even so, after watching the last few Washington games, I just don't see the Redskins winning this game; their defense is abysmal.
Pick • Giants 24, Redskins 17 ✔
Giants -1 (one unit) ✔ +100
Under 46 ✔
Final Score: Giants 24, Redskins 17 … New York covers by 6 … under by 5
New Orleans Saints (9-2) at Seattle Seahawks (10-1) on MNF
The last time the Saints played at Seattle it was in the 2010 playoffs, as 7-9 Seattle – a club many felt did not deserve to be in the playoffs – shocked the defending Super Bowl champions. New Orleans was a 10-point favorite for that game but Marshawn Lynch ran over the Saints' defense and Matt Hasselbeck threw four touchdown passes, giving first-year head coach Pete Carroll his first post-season victory since the Patriots defeated Miami in 1997.
Seattle tends to leave their corners in a right/left scheme, so with Brandon Browner and Walter Thurmond suspended it will be up to Byron Maxwell and Jeremy Lane to step up at CB versus WR Marques Colston, WR Lance Moore, TE Jimmy Graham and RB Darren Sproles. TE Jimmy Graham will likely be covered by safety Kam Chancellor, but as good as Chancellor is, he'll need help covering Graham; Graham already has six 100-yard games this year. Seattle may stray from their usual script and put CB Richard Sherman on Graham – they had him cover TE Vernon Davis earlier this year – but then that leaves Maxwell and Lane on Colston and Moore. Oh yeah, New Orleans also has RB Darren Sproles back this week; he has 48 receptions this season.
When Seattle offense is getting healthier and more productive. LT Russell Okung and RT are back on the field, solifying both pass protection and the running game. Percy Harvin gets to play in his second game of the season, and his presence along with Golden Tate will open the running game. Marshawn Lynch is third in the NFL with 925 yards rushing and is averaging 4.4 yards per carry; that in turn will set up play action passes for Russell Wilson downfield. Wilson has been outstanding despite the injuries on offense; he has a 105.1 passer rating (6th), has completed 64% of his passes (9th), and has thrown 19 touchdown passes with just six interceptions.
This should be a great game that could easily go either way, but Seattle's stellar defense and their home crowd perhaps tilting the table for a couple of favorable calls should be the difference.
Pick • Seahawks 24, Saints 21 ✔
Saints +5½ ✘
Under 47½ ✔
Final Score: Seahawks 34, Saints 7 … Seattle covers by 21½ … under by 6½
$ $ $ $ $ $ $ $ $ $
Sometimes everything just seems to go your way…
Tale Of The Tape
Week 12 Results
Straight Up: 7-6-1, 54%
Underdogs to win straight up: 2-2, 50%
Against the Spread: 8-5-1, 62%
ATS picking favorites: 3-3-1, 50% (1-1, -10)
ATS picking underdogs: 5-2, 71% (2-0, +200)
ATS Confidence Picks: 3-1, 75% (+190)
One Unit Plays ATS: 3-1, +190
Two Unit Plays ATS: none
Three Unit Plays ATS: none
Four Unit Plays ATS: none
Five Unit Plays ATS: none
440 risked, net +190; +43.2% ROI
Over Under Total: 8-6, 57%
Picking Over: 6-5, 55% (1-1, -10)
Picking Under: 2-1, 33% (0-0, +-0)
O/U Confidence Picks: 1-1, 50% (-10)
One Unit Plays O/U: 1-1, -10
Two Unit Plays O/U: none
Three Unit Plays O/U: none
Four Unit Plays O/U: none
Five Unit Plays O/U: none
220 risked, net -10; -4.5% ROI
Money Line: 2-0-1, +860
Best Play of the Week: correct (Oklahoma State +9½ vs Baylor); +300
3-Game Teasers: 1-0, +100
2-Game Parlays: none
3-Game Parlays: 2-0, +1200
4-Game Parlays: none
College Games: 9-0 (one unit: 5-0; two unit: 1-0; three unit: 1-0; money line: 2-0, +715); 1250 risked; net +1915; 157.6% ROI
Week 12 Grand Total: 18-2-1; 2540 risked; net +4255; +167.5% ROI
Season Totals
Straight Up: 119-56-1 (68%)
Underdogs to win straight up: 18-15 (55%)
Against the Spread: 82-87-7 (49%)
ATS picking favorites: 43-46-6, 48% (19-20, -750)
ATS picking underdogs: 39-41-1, 49% (10-7, +290)
ATS Confidence Picks: 29-27, 52% (-460)
One Unit Plays ATS: 17-13, 57% (+270)
Two Unit Plays ATS: 9-10, 47% (-390)
Three Unit Plays ATS: 1-2, 33% (-360)
Four Unit Plays ATS: 1-2, 50% (-480)
Five Unit Plays ATS: 1-0, 100% (+500)
Over Under Total: 90-86 (51%)
Picking Over: 49-39, 57% (15-11, +540)
Picking Under: 41-47, 47% (12-13, -290)
O/U Confidence Picks: 27-24, 53% (+250)
One Unit Plays O/U: 17-14, 55% (+160)
Two Unit Plays O/U: 7-9, 44% (-580)
Three Unit Plays O/U: 2-1, 67% (+270)
Four Unit Plays O/U: 1-0, 100% (+400)
Five Unit Plays O/U: none
Money Line: 2-0-1, +860
Best Play of the Week: 8-3, 73% (+1800)
3-Game Teasers: 8-6 (+610)
3-Game Parlays: 4-6 (+1520)
4-Game Parlays: 0-1 (-110)
College Games: 46-17-1, 73%; net +4825
Grand Total: 116-81-2; 59%; 33,020 risked; net +7,495; 22.7% ROI
The views and opinions expressed are those of the author and do not necessarily reflect the views or opinions of the publisher of this website. Neither the author nor this website promote or advocate gambling. This is solely for entertainment purposes only. If you or someone you know has a gambling problem, please call 1-888-ADMIT-IT.
Follow on Twitter @AllThingsPats
2013-14 Calendar: Key Dates for the Patriots and the NFL
2013 New England Patriots Transaction Tracker
---