There are several excellent matchups in week four, capped off by the Patriots at Falcons on Sunday night. Miami at New Orleans, Seattle at Houston, Chicago at Detroit and Dallas at San Diego are all intriguing games well worth watching. We get a good opportunity to see how much home field advantage means this week, as their are six games that list the visiting team as the favorite, and two more where the home team is favored by a field goal or less. Rather than list the games in the typical Vegas-style early to late fashion, I'm going to rank them from most to least worth viewing.
First though, the pre-game NFL schedule; ratings are based on my completely unscientific conclusions on which shows are worth (or not worth) tuning in to.
6:30-7:00 am NFL Matchup, ESPN ★★★★★
7:00-9:00 am NFL Game Day First, NFLN ★★★
9:00-1:00 pm That Other Pregame Show, CBS Sports Network ★★★★
9:00-1:00 pm NFL Game Day Morning, NFLN ★
10:00-1:00 pm: NFL Countdown, ESPN ★
Noon-1:00 pm NFL Today, CBS ★★★
Noon-1:00 pm NFL Sunday, FOX ★★
7:00-8:00 pm: Football Night In America, NBC ★★★★
Week 4 NFL Games
1. New England Patriots at Atlanta Falcons (Sunday night on NBC)
The Patriots need to do a better job in the red zone (last, 30.8%) against an Atlanta team that starts fast: the Falcons have outscored opponents 31-0 thus far. If the Pats – who are notorious for starting slowly defensively – can survive early before making their usual in-game adjustments, they should be able to come back and start clicking against a club that tends to fade late. As beat up as the Patriots are, the Falcons may be in even worse shape, with RB Steven Jackson out, LT Sam Baker unlikely to play, WR Roddy White slowed down with a high ankle sprain, and LB Sean Witherspoon on in-season IR.
Non verbal communication in the dome will be key for rookies Aaron Dobson and Kenbrell Thompkins

There are two trends pointing to opposite results in play with this game: the Patriots have won four straight as the underdog since 2010, and are 17-5-2 in that role since 2003. On the other hand HC Mike Smith's Falcons are 34-5 at home since QB Matt Ryan joined the team in 2008; they are also 23-3 following a loss, bouncing back to win their last 14 in a row after a defeat. Bill Belichick always game plans to take away the opposing offenses's best player; stopping WR Julio Jones is going to be easier said than done, and there will still be TE Tony Gonzalez and WR Harry Douglas to defend. Games are still won in the trenches and I see the Patriots as having both a better offensive and defensive line; that edge should be just barely enough to overcome the home field dome advantage.
Pick • Upset Special: Patriots 27, Falcons 24 ✔
Patriots +2½ ✔
Over 49½ ✔
Final: Patriots cover, win by 7; 53 points (Patriots 30, Falcons 23)
2. Miami Dolphins at New Orleans Saints (Monday night on ESPN)
The Saints are simply so difficult to defeat at home in the dome, it's tough to pick against them here – especially with their passionate crowd that will be even more fired up for a nationally televised night game. The New Orleans offense (15th in points scored, with 23.3; 20th in Red Zone touchdowns, with 4) has not been as explosive as in previous seasons but more importantly their defense is vastly improved (28.4 ppg in 2012; 12.7 ppg this year). Miami is limping into New Orleans with injuries to DE Cameron Wake (knee), DT Paul Soliai (knee), LB Koa Misi (shoulder) and CB Dimitri Patterson (groin) all ailing, which truly minimizes their chances for a victory. Without Wake and Soliai Miami will be challenged to effectively get pressure on Drew Brees, which is typically disastrous for opposing defenses. The New Orleans offense however has uncharacteristically struggled with pass protection; after being sacked just 26 times last season, Brees has already been sacked ten times in just three games this year, part of what has caused the drop in offensive production.
The Saints have had a good start thanks to an improved defense

Offensively the addition of Lamar Miller has not ignited the running game quite as much as had been hoped (the Dolphins rank 26th with 3.2 yards per carry and are 28th with 70 yards rushing per game), and although QB Ryan Tannehill has stepped up and made some big plays he has also fumbled the ball five times already this season. Big money WR Mike Wallace has been inconsistent (two games with a total of 37 yards receiving; one game with 9 receptions for 115 yards and a TD), but WR Brian Hartline (18 receptions, 238 yards, 2 TD) and TE Charles Clay (14 receptions, 203 yards) have been solid. The Miami defense has struggled against the run (4.7 yards per carry) and with their tackling in general thus far this season; that won't cut it against the Saints' offense.
Pick • Saints 31, Dolphins 17 ✔
Saints -6½ (two units) ✔✔ +200
Over 47½ ✔
Final: TBD Monday night
Final: Saints cover, win by 21; 55 points (Saints 38, Dolphins 17)
3. Seattle Seahawks at Houston Texans (early game on FOX)
This is another game that has fluctuated (pick to 3; 45 to 41) due to an injury to a skill position player, in this case WR Andre Johnson. The Texans have clearly underwhelmed even when winning this year, but on the other hand Seattle is a completely different team when traveling on the road without their 12th man. Russell Wilson is 10-0 with 21 TD and only 4 picks at Century Link; however he is 4-5 with 10 TD and 8 interceptions when having to deal with hostile crowds on the road.
Matt Schaub has thrown four interceptions – only four quarterbacks have thrown more – and now he faces the league's best defense. Seattle is second in NFL with ten takeaways; Schaub may have got away with two picks against Tennessee, but that will be fatal against the Seahawks. Houston's defense may rank 2nd in yardage (249 per game) but they are only 24th where it counts, with 27.3 points per game; that's due in large part to their having forced only one turnover in three games.
Pick • Seahawks 27, Texans 20 ✔
Seahawks -1½ (one unit) ✔ +100
Over 41½ ✔
Final: Seahawks cover, win by 3; 43 points (Seahawks 23, Texans 20 in OT)
4. Chicago Bears at Detroit Lions (early game on FOX)
Initially I was shocked that the Lions were favored by three in this game, because that in theory means that the two teams are even, with three points going to the home team; that's just not the case. However, injuries to defensive players don't get the same publicity as ones to offensive players do – perhaps a result of the popularity of fantasy football – but losing DT Henry Melton is a big blow for Chicago. On top of that CB Charles Tillman has been dealing with various ailments this season (flu, knee, groin),  and it is clearly impacting the team's pass defense; the Bears are allowing 8.8 yards per pass attempt, which is the 4th most in the NFL. In the past Peanut has held WR Calvin Johnson in check, limiting Megatron to no more than 81 yards or any touchdowns in any of the last three games these two have met. Tillman had seven pass defenses and an interception in those three games against Detroit – all of which the Bears won. Johnson had just three catches for 34 yards at Soldier Field last October, and then in the season finale, he finished with five receptions for 72 yards; that gave him 1,964 yards and left him just short of becoming the first player with 2,000 receiving in a season. In his career Johnson has hit the 100-yard mark only twice against the Bears; he has topped that mark 32 times in his 85 other NFL games.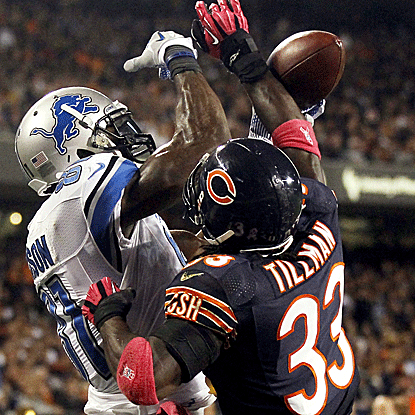 Peanut Tillman won his battles against Megatron last year, but a groin injury may change that Sunday

HC Marc Trestman will need to game plan to limit Johnson, but doing so may create an opportunity for RB Reggie Bush. Chicago is stout against the run but Bush is most dangerous in the passing game where he can wreak havoc in space. Still, the Bears have had an immense turnaround in the performance of their offensive line. Jay Cutler has been sacked only three times in three games; the last three years the Bears allowed an average of 50 sacks per season. This has allowed Cutler to step up in the pocket and throw with more accuracy. On defense the Bears continue to be one of the best at forcing turnovers, with an NFL-leading 11 takeaways; expect them to take advantage of Matthew Stafford's questionable decision making and come away with a victory.
Pick • Upset Special: Bears 27, Lions 24 ✘
Bears +3 ✘
Over 47 ✔
Final: Lions cover, win by 8; 72 points (Lions 40, Bears 32)
5. Dallas Cowboys at San Diego Chargers (late game on FOX)
The line has shifted from a pick-em to 2, which I initially thought was an overreaction to last week's results. For the second straight week the Rams were horrible (making the Cowboys look good in the process), while San Diego had the difficult task of dealing with back-to-back lengthy road trips. Dallas losing DE Anthony Spencer to IR with more knee problems appeared to be a major setback, but they still have DeMarcus Ware and George Selvie at defensive end.
The Chargers have had trouble holding on to a lead, and it is easy to see why: their defense isn't very good and they don't have a particularly effective running game (3.9 yards per carry). Tony Romo should have success passing the ball even without Miles Austin (hamstring); he still has Dez Bryant and Jason Witten to take advantage of a Chargers defense that has allowed an NFL-worst 341 yards per game and 30th ranked 9.0 yards per pass attempt; after that DeMarco Murray should be able to wind down the clock against a defense that is giving up 5.1 yards per carry. While San Diego's offense has re-emerged this year, their D has a long ways to go.
Pick • Cowboys 34, Chargers 31 ✘
Cowboys -2 ✘
Over 46½ (two units) ✔✔ +200
Final: Chargers cover, win by 9; 51 points (Chargers 30, Cowboys 21)
6. Philadelphia Eagles at Denver Broncos (late game on FOX)
Peyton Manning is whining because the Broncos are playing on a short week, while Philly has had since Thursday to prepare. If this was a road game I would thoroughly agree that he has a point, but that's not the case for this game. News flash to The Choreographer: not only does every NFL team (including the Broncos) have a Thursday night game (resulting in three extra days to get ready), but every NFL team also has a bye week (resulting in seven extra days to get ready).
Few defenses are better conditioned to handle the Philly offense than the Broncos, who practice every week against their own up-tempo offense. Considering the Eagles' issues in pass defense (323 yards per game, 67% completion rate), this game could get out of hand very quickly – especially if Denver's run defense (an NFL-best 2.3 yards per carry) continues to make opposing offenses one dimensional.
Pick • Broncos 45, Eagles 24 ✔
Broncos -10½ (one unit) ✔ +100
Over 58 (one unit) ✔ +100
Final: Broncos cover, win by 32; 72 points (Broncos 52, Eagles 20)
7. Baltimore Ravens at Buffalo Bills (early game on CBS)
The line on this game has been all over the place (from 6 to a pick), based on the availability of Ray Rice. Baltimore did fine without him last week against a superior Houston team, though that was played at M&T Bank Stadium. Third-down is a key for all football teams, and it is an area in which Buffalo is faltering. The Bills' 31.1% conversion rate on offense is the league's fifth worst, and its 46% of third down conversions allowed on defense is sixth worst.
Baltimore may be able to take advantage of Buffalo's slow starts: the Bills have yet to score a first-quarter point all season; it doesn't help when the average drive starts on the 19.1-yard line (third worst). The Buffalo run defense is still bad (155 yards per game; only Jacksonville is worse) while their own running game stalls in the red zone (just one rushing touchdown). CB Justin Rogers was burned for two long touchdowns by the Jets of all teams; overall the Bills have allowed six touchdown passes. The only stumbling block for Baltimore may be themselves, possibly being distracted and lacking focus after last week's stripper-party bus brawl.
Pick • Ravens 31, Bills 20 ✘
Ravens -3 (one unit) ✘ -110
Over 44 ✘
Final: Bills cover, win by 3; 43 points (Bills 23, Ravens 20)
8. Cincinnati Bengals at Cleveland Browns (early game on CBS)
The line has dropped two full points thanks to the Browns victory over Minnesota last week. The Vikings are overrated due to their making the playoffs last year, and the Bengals are a vastly superior team that won't be looking past a division rival due to that win. New Cleveland RB Willis McGahee ran for just nine yards on eight carries against a mediocre Minnesota defense; I would not expect him to get untracked facing the Bengals. Cincinnati's biggest issue is themselves: this could be a classic trap game, with the Bengals coming off an emotional win over Green Bay and having the Patriots on their schedule next week.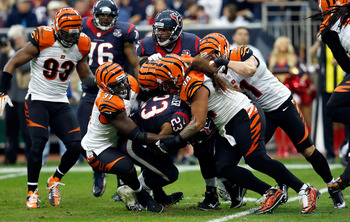 Cleveland will find it a lot tougher to get their offense in gear this week against the Bengals defense

While the Cleveland defense (12th in points allowed, 21.3; 6th in yards allowed, 300) is very underrated (opponents are rushing for just 2.8 yards per carry, and have a passer rating under 80), I think their offense will be overmatched by the Bengal defense, with the front four of Geno Atkins, Domata Peko, Michael Johnson and Carlos Dunlap dominating the line of scrimmage. I would expect Cincy to double WR Josh Gordon, who caught 10 passes for 146 yards last week; that could create some opportunity for TE Jordan Cameron.
Pick • Bengals 24, Browns 13 ✘
Bengals -3½ ✘
Under 43 (one unit) ✔ +100
Final: Browns cover, win by 11; 23 points (Browns 17, Bengals 6)
9. New York Giants at Kansas City Chiefs (early game on FOX)
Again, with three points going to the home team, am I to believe that the Chiefs are only one point better than the Giants on a neutral field? The only explanation I have is people basing their opinions based on 2010-2012 rather than 2013; not coincidentally the Giants are 0-3 ATS this year. Perhaps people thinking the 0-3 Giants are overdue for a win, and the 3-0 Chiefs are overdue for a loss? Or is it possibly because of the two quarterbacks? If that is the case, then why go with the QB who is on the road that has a league leading 8 interceptions over the QB that is playing at home that has no picks? Eli Manning has thrown as many interceptions in his last three games as Alex Smith has in his last 25 starts.
The Giants offensive line is giving Eli Manning no chance to succeed

In the here and now the Chiefs lead the NFL with a +9 turnover ratio, and here come the Giants with the league's worst turnover ratio at -9 and an offensive line that can neither pass protect (11 sacks allowed) nor run block (2.7 yards per carry) into a raucous Arrowhead Stadium, a place that has always been one of the loudest places to play.
Pick • Chiefs 31, Giants 10 ✔
Chiefs -4 (five units) Best Play of the Week ✔✔✔✔✔ +500
Under 44 ✔
Final: Chiefs cover, win by 24; 38 points (Chiefs 31, Giants 7)
10. New York Jets at Tennessee Titans (late game on CBS)
The Jets defensive line is very good and Tennessee RT David Stewart is not 100%, recovering from a calf injury. That could lead to some big plays by Mo Wilkerson who has three sacks this season and six in his last eight games. When Jake Locker does throw, keep an eye on slot receiver Kendall Wright; he'll be covered by CB David Wilson, who has struggled once again. After beating the Bucs and Bills by a combined total of 8 points, this will be a more difficult test for Geno Smith and the Jets.
The line has shifted from 6 to 3; are people jumping back on the Jets bandwagon, or simply realizing that their defense and their offensive lines are very good rather than strictly focusing on their fantasy football value? This is a really difficult game to predict, but I'll go with the better defense. The Jets are allowing 16.7 points per game (7th) and their defense is allowing just 47.3% of passes thrown at them to be completed, best in the NFL.
Pick • Upset Special: Jets 20, Titans 16 ✘
Jets +3½ ✘
Under 40½ ✘
Final: Titans cover, win by 25; 51 points (Titans 38, Jets 13)
11. Arizona Cardinals at Tampa Bay Buccaneers (early game on FOX)
The Bucs have benched Josh Freeman and rookie Mike Glennon gets the start. Glennon was unimpressive in preseason, but perhaps the rest of the club rallies around him the way the Browns did with Brian Hoyer. HC Greg Schiano certainly saw something in Glennon, drafting him in the third round and then sticking his neck out by making the change now; he could have bought some time and waited until next year, giving Glennon more time to become better prepared. If Glennon flops, Schiano doesn't have the excuse about now buying the groceries.
The Cardinals defense is talented, especially against the run, and the Bucs are banged up on both sides of the ball; most notably neither WR Vincent Jackson (ribs) nor WR Mike Williams (hamstring) took part in Wednesday's practice. Arizona has had little success traveling to the east coast in recent years, so this year head coach took a seldom used approach and had the club go directly to Tampa from New Orleans and spend the week there rather than fly home to Phoenix. Cheer up Buc fans; unlike the last couple of seasons, this year your miserly owners have agreed to televise every game locally this year, even if the games are not sold out.
Pick • Upset Special: Cardinals 20, Bucs 13 ✔
Cardinals +2½ (one unit) ✔ +100
Under 40½ (two units) ✔✔ +200
Final: Cardinals cover, win by 3; 23 points (Cardinals 13, Bucs 10)
12. Washington Redskins at Oakland Raiders (late game on FOX)
Forget the fact that Washington made the playoffs last year; right now they are one of the worst teams in the NFL, especially on defense. The Skins give up 4.8 yards per carry (28th) and 155 yards on the ground per game (31st), yet somehow their pass defense is even worse. CB De'Angelo Hall tends to gamble too much trying to make a big play, and S Bacarri Rambo makes Sergio Brown look like an All Pro. The Redskins are allowing opponents to average 9.8 yards per pass attempt (32nd) and 333 yards passing per game (31st). WR Denarius Moore (11 receptions, 167 yards, 2 TD) should have a big game Sunday.
Once again, a line that appears to be based on what happened last year instead of the current reality. While I can understand the trepidation in taking Oakland because of the unknown status of Terrelle Pryor, this Washington team is awful on both sides of the ball and is traveling cross country. As long as Pryor is playing (frankly right now he is a better quarterback than the widely hyped Robert Griffin) I'll go with Oakland, but it will be difficult to justify sticking with the Raiders if Matt Flynn is their starting quarterback.
Pick • Upset Special: Raiders 24, Redskins 23 ✘
Raiders +3½ (one unit if Pryor starts) ✘
Over 43½ ✘
Final: Redskins cover, win by 10; 38 points (Redskins 24, Raiders 14)
13. Pittsburgh Steelers vs Minnesota Vikings in London (early game on CBS)
When the schedule was announced it looked as though the UK was given a quality game between two playoff contenders, but what they received was a game between two winless sinking ships. With Christian Ponder as their QB you would think offense would be the Vikings problem, but they actually rank 7th in points scored with 27.0 per game. One thing they need to improve on is ball security (they've turned the ball over ten times, second worst in the NFL), removing Ponder (five interceptions) for Matt Cassel is a step in the right direction. Those giveaways negate the only thing the defense is doing well, forcing turnovers; the Vikings rank second, with ten. Other than that though their D is horrid; after scoring just one touchdown in the first two games Brian Hoyer and the Browns torched the Viking defense for 31 points. Allowing 32.0 points per game (30th) and 430 yards per game (29th) puts them in a difficult position, because the club is not built to come from behind or win shootouts.
The last few years the 'expert' 'insiders' have continually talked about how good the Steelers defense is based on yardage rankings being the official statistic of the NFL, while ignoring points allowed. The reason for this discrepancy is because Pittsburgh doesn't create turnovers, and that has become even more glaring this year. The Steelers defense may allegedly be the NFL's 5th best at 298 yards per game, but they are 21st in point allowed (25.3). The reason for that discrepancy is because they are the only NFL team that does not have a single takeaway, and that leads to their having a -9 turnover differential, which is tied with the Giants as the league's worst. RB LeVeon Bell will be available, but don't expect it to make a big difference. Todd Haley has been a downgrade from Bruce Arians as an OC and their offensive line has been horrendous; that unit has looked completely lost on the field, without any guidance. End result is just two red zone touchdowns this year (fewest in the NFL) and a 30th ranked 14.0 points per game – with Ben Roethlisberger doubtful to last the full season.
Pick • Vikings 23, Steelers 20 ✔
Vikings +3 ✔
Over 42 ✔
Final: Vikings cover, win by 7; 61 points (Vikings 34, Steelers 27)
14. Indianapolis Colts at Jacksonville Jaguars (early game on CBS)
The Indy defense has quietly improved from being a shortcoming and barrier to the team's success, to at least being solid. The Colts are allowing 16 points per game, which is 6th best in the NFL; a year ago they ranked 21st, giving up 24.2 points per game. More importantly they are not turning the ball over; in 2012 the Colts somehow made the playoffs despite having a -12 turnover differential, and so far this year they are +4.
Last year the Jags shocked Indy with a 22-17 victory at LOS, so even though the Colts are coming off an emotional win there shouldn't be a dramatic letdown against an inferior opponent. The Jaguars are allowing an NFL-worst 168 yards rushing per game and the Colts have become much more balanced, running for a 4th-best 148 yards per game and a 6th-best 4.8 yards per carry. QB Blaine Gabbert returns for Jacksonville, though that may not be a good thing. With RB Maurice Jones-Drew (2.6 yards per carry) stymied as opponents stack the box, WR Cecil Shorts is left as the team's only offensive threat; he performs much better when Chad Henne is the team's QB.
Pick • Colts 28, Jaguars 13 ✔
Colts -8½ (one unit) ✔ +100
Over 42 ✘
Final: Colts cover, win by 34 (Colts 37, Jaguars 3)
Thursday's Game, San Francisco 49ers at St. Louis Rams
I thought the 49ers would have success running the ball and they did (219 yards rushing, 5.5 yards per carry) against a Rams defense that had just allowed 175 yards rushing to DeMarco Murray, but I didn't expect their beat up defense to be so impreesive; San Francisco limited St. Louis to 2.9 yards per play, 18 yards rushing, 188 yards of offense and just three points until late in the 4th quarter.
Pick • 49ers 24, Rams 20 ✔
49ers -3 ✔
Under 42 ✘
Final: 49ers cover, win by 24; 46 points (49ers 35, Rams 11)
Three-Team Teaser (three units): ✔✔✔ +300
Chiefs +5 ✔
Cowboys-Chargers over 37½ ✔
Saints +2½ ✔
For the first time this season I'm also going to pick a few college games.
Miami -16 at South Florida (three units)
USF is not very good this year, as they are still recovering from the disaster that was the Skip Holtz era. Willie Taggart is a good coach, but until his recruits become upper classmen the Bulls will be out of their league against ranked teams like the 'Canes.
Final Difference: Miami covers, wins by 28 (Miami 49, South Florida 21) ✔✔✔ +300
Colorado at Oregon State, over 56½ (one unit)
In the Buffalo's two games this season they have combined for 68 points (against Colorado State) and 62 (against Central Arkansas); those two teams are not anywhere close to having as good an offense as Oregon State does – the Beavers have scored at least 34 point in every game.
Final: 61 points, over (Oregon State 44, Colorado 17) ✔ +100
Mississippi +14½ at Alabama (one unit)
'Bama is 3-0 but they were out-gained by Virginia Tech and had only 16 first downs while allowing 13 first downs to Colorado State. Ole Miss is well coached and they've proven they can play with the upper echelon teams of the SEC: last year they played the Crimson Tide tough and lost by only 3 to Texas A&M and 6 to LSU.
Final: Alabama covers, wins by 25 (Alabama 25, Ole Miss 0) ✘ -110
Stanford -9½ at Washington State (one unit)
The Cougars are getting a little too much respect due to their 3-1 start; two of their three victories have come against Idaho and Southern Utah, and the other was against a down USC team that is no longer the power that it once was.
Final: Stanford covers, wins by 38 (Stanford 55, Washington State 17) ✔ +100
Three-Team Parlay (one unit):
'Canes -16 ✔
Colorado-Oregon State over 56½ ✔
Chiefs -4 ✔
✔✔✔✔✔✔ +600
For those out there that the line makes a difference, you already know that last week was white knuckle time right down to the final ticks of the clock. Eight week three games came right down to the wire either against the spread or for the point total, and Thursday's game went from being safely under to just over thanks to two touchdowns in garbage time, including one set up by on onside kick. Two games were pushes (Broncos-Raiders and Titans-Chargers), proving it's worth taking your time to either shop around or keep an eye on line movement.
$ $ $ $ $ $ $ $ $ $
Have you ever had a feeling that reminded you of when you were in school, and while taking a test you suddenly realized that you were inexplicably over confident in your knowledge because you suddenly realized that you were completely unprepared?
That was me last week, watching the scores flash across the screen all Sunday afternoon.
I have very little use for television – I much prefer movies and there are only a couple of series that I watch every week – so after coming home from work I typically watch two or three games via the NFL's Game Rewind. Between that, injury reports and a brief statistical analysis, I find myself adequately prepared to handicap the following week's football games. Last week however I had some other things come up that resulted in my having watched much less game film. Instead of just taking a pass on making predictions, I winged it on superficial analysis – and not surprisingly the results paralleled the amount of time I had put in. Shame on me, and my apologies to anybody that felt compelled to follow my advice.
A prime example was the Vikings-Browns. I saw that Cleveland traded their starting RB and third-string QB Brian Hoyer was getting his second NFL start. I did no research and watched no film from the previous week on either team, and predictably lost four units on the line, plus two more on the total. I would chalk that up to being a rookie mistake, except I'm no rookie at this. Shortcuts and poor decisions flushed half the profits from week two down the drain. Mea culpa.
Tale Of The Tape
Week 3 Results
Straight Up: 12-4 (75%)
Underdogs to win straight up: 2-0 (100%)
Against the Spread: 9-5-2 (64%)
ATS picking favorites: 5-2-1, 71% (3-1, -40)
ATS picking underdogs: 4-3-1, 57% (2-0, +200)
ATS Confidence Picks: 6-1, 86% (5-1, +160)
One Unit Plays ATS:  4-0 (+400)
Two Unit Plays ATS: 1-0 (+200)
Three Unit Plays ATS: none
Four Unit Plays ATS: 0-1 (-440)
Five Unit Plays ATS: none
Over Under Total: 5-11 (31%)
Picking Over: 1-5, 17% (0-2, -440)
Picking Under: 4-6, 40% (1-3, -340)
O/U Confidence Picks: 1-5, 17% (1-5, -780)
One Unit Plays O/U: 1-3 (-230)
Two Unit Plays O/U: 0-1 (-220)
Three Unit Plays O/U: 0-1 (-330)
Four Unit Plays O/U: none
Five Unit Plays O/U: none
Best Play of the Week: wrong, minus four units (Vikings over Browns)
2-Team Teasers: none
3-Team Teasers: 0-1
2-Team Parlays: none
Week 3 Total: (2100 risked; net minus 620; -29.5% ROI)
Season Totals
Straight Up: 37-11 (77%)
Underdogs to win straight up: 4-2 (67%)
Against the Spread: 24-21-3 (53%)
ATS picking favorites: 13-12-2, 52% (6-7, -410)
ATS picking underdogs: 11-9-1, 55% (5-1, +890)
ATS Confidence Picks: 11-8, 58% (+480)
One Unit Plays ATS: 5-5, 50% (-50)
Two Unit Plays ATS: 5-2, 71% (+570)
Three Unit Plays ATS: none
Four Unit Plays ATS: 1-1, 50% (-40)
Five Unit Plays ATS: none
Over Under Total: 27-21 (56%)
Picking Over: 10-9, 53% (1-2, -340)
Picking Under: 17-12, 59% (7-5, +220)
O/U Confidence Picks: 8-7, 53% (-120)
One Unit Plays O/U: 5-3, 63% (+170)
Two Unit Plays O/U: 2-3, 40% (-260)
Three Unit Plays O/U: 1-1 (-30)
Four Unit Plays O/U: none
Five Unit Plays O/U: none
Best Play of the Week: 2-1, +260
2-Team Teasers: none
3-Team Teasers: 1-1 (1-0, +300)
2-Team Parlays: none
Grand Total: (6390 risked; net +660; +10.3% ROI)
The views and opinions expressed are those of the author and do not necessarily reflect the views or opinions of the publisher of this website. Neither the author nor this website promote or advocate gambling. This is solely for entertainment purposes only. If you or someone you know has a gambling problem, please call 1-888-ADMIT-IT.
Follow on Twitter @AllThingsPats
2013-14 Calendar: Key Dates for the Patriots and the NFL
2013 New England Patriots Transaction Tracker
---