While on paper Sunday's game at Buffalo may appear to be the NFL's equivalent of an SEC powerhouse taking on a Division 1-AA team to open the season, this game is no gimme. Ten years ago today the Bills throttled the Patriots 31-0 in the infamous They Hate Their Coach game, and although Buffalo has defeated the Patriots just once in the 19 times these two teams have met since then, there are still reasons for Pats fans to not look past this game.
C.J. Spiller
Last time we saw running back C.J. Spiller he torched the Pats defense to the tune of 131 yards from scrimmage, averaging ten yards every time he got his hands on the ball. While the Patriots have been stout against the run – they ranked 6th in yards per carry and 9th in yards per game in 2012 – this situation is atypical. Vince Wilfork, Tommy Kelly and Brandon Spikes may make it difficult for opponents to run between the tackles, but Spiller is more of a threat on the outside. Quick pitches and screens in the flat will leave someone like Spikes in the dust, and covering him with Jerod Mayo is still a mismatch that heavily favors Buffalo.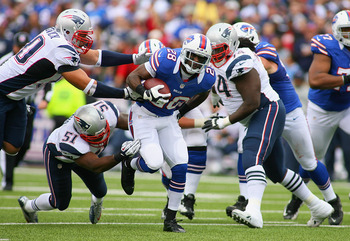 C.J. Spiller had 1,703 yards from scrimmage and averaged 6.0 yards per carry in 2012
The Patriots will probably rely on Dane Fletcher or Jamie Collins to get more speed at linebacker, and they will need to be sure in their tackling to prevent Spiller (and Fred Jackson) from gaining speed beyond the line of scrimmage. Rob Ninkovich and Chandler Jones will need to set the edge; although that may mean less pressure on the quarterback, Spiller is the top priority to be neutralized, not EJ Manuel.
Unknown Opposition
While much has been written about all the newcomers on the Patriots offense, at this point Bill Belichick and his coaching staff have a decent idea about what they can expect from them.The same cannot be said about the Bills, who have a new head coach (Doug Marrone), a new defensive coordinator (Mike Pettine), a new offensive coordinator (Nathaniel Hackett), ten new position coaches, a new quarterback (EJ Manuel), and a pair of new receivers (Robert Woods, Marquise Goodwin). Teams don't game plan in pre-season so there's just not a whole lot to go on in preparation for this club. Don't be surprised if the Patriots come out somewhat vanilla on defense at the beginning of the game – and perhaps allow a score or two early in the process – before making in-game adjustments designed to neutralize Spiller and confound Manuel.
The quandary for Buffalo will be how to stop the Patriots offense. Tom Brady has historically shown a penchant for exploiting defenses that bring an extra pass rusher, but if the Bills don't do so then that could leave Brady even more time to find an open receiver. If they sell out against the pass then the Pats will be content to hand off to Stevan Ridley (204 yards rushing against Buffalo last year), Brandon Bolden (137 yards at Buffalo in week 4), and LaGarrette Blount, and go for the jugular with Shane Vereen split wide creating a mismatch. Bring more players up close to the line of scrimmage to stop the run and the Bills – who will be without cornerback Stephon Gilmore and safety Jairus Byrd – will be severely outmatched in coverage. Danny Amendola should have no trouble versus Ron Brooks, and the same holds true for Zach Sudfeld versus Manny Lawson.
Prediction: The game will start out close, but the Patriots will control both sides of the ball after halftime, forcing turnovers and taking advantage of those opportunities to win going away.
Patriots 34, Bills 20
Follow on Twitter @AllThingsPats
2013-14 Calendar: Key Dates for the Patriots and the NFL
2013 New England Patriots Transaction Tracker
---