During the off season there has been some discussion regarding the departure of some Patriots from the 2011 squad. This is nothing new; whenever a player signs elsewhere it is natural for sports fans to attempt to determine whether it was a wise move, or to second guess management. With that in mind a couple of friends of mine got into a lengthy debate on the topic over more than one adult beverage this past weekend. Here is a look at active NFL players who were on the Patriots roster at some time in the past, and have the best chances of contributing to another team in 2012.
Mark Anderson led the Pats with 12.5 sacks in 2011
Mark Anderson got off to a great start as a rookie in Chicago in 2006, registering 12 sacks as the Bears advanced to the Super Bowl. However in the next three season he had only 9½ sacks and 57 tackles and was released. Anderson – who finished 2nd in Defensive Player of the Year voting in 2006 – had a huge comeback year in 2011, recording ten sacks (12½ including the playoff) and being a solid contributor to another NFL conference champion team. The Bills signed him to a four-year deal worth $27.5 million, with $8 million guaranteed early in free agency. The knock on him has been a lack of consistency (two good years, three mediocre seasons) and being a one-dimensional pass rusher who does nothing in run support. Bills fans feel confident that with opponents having to pay so much attention to Mario Williams, Anderson will have another big season in 2012.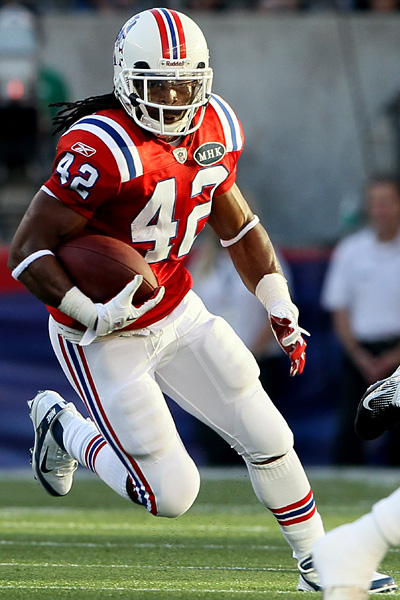 BenJarvus Green-Ellis ran for 25 touchdowns in 20010-11
When the Patriots drafted Shane Vereen and Stevan Ridley on day two of the 2011 NFL draft, the writing was on the wall that it was likely that it would be the final year for BenJarvus Green-Ellis in Foxboro. The Law Firm gamely battled turf toe all year long without missing a single game. While he did rush for 11 touchdowns his rushing yardage plummeted from 1008 to 67, and his yards per carry dipped from 4.4 to just 3.7. Similar to Anderson the Pats expressed little to no interest in re-signing him as a free agent, and he hooked up with the Bengals for a relatively modest 3-year, $9 million deal with $4 million guaranteed. I think that BJGE's touchdown total may go down, but expect his total yards rushing and yards per carry to improve. Turf toe is an injury that sounds benign but is anything but that for an athlete, and can only be cured by several weeks of rest – something Benny did not get last year. In addition, unlike the Pats' running back by committee approach, Bengals' head coach Marvin Lewis likes to give the ball to his primary running back a lot: Cedric Benson averaged 318 touches per year over the last three seasons. Don't be the least bit surprised if BJGE ends up with about 1200 yards rushing this season.
Chad Johnson had just 15 receptions for 276 yards and only one touchdown last year
Chad Johnson was much maligned for never being able to grasp the Patriots' playbook and offensive style, and get on the same page with Tom Brady. In Miami he will not only have a simpler offense that is more suited to him, but he will also vault from being the sixth option in the passing game to at least the second, if not the first option. Miami's leading receiver from 2011, Brandon Marshall, is now in Chicago; that leaving a big void in their passing game. Even if slot receiver Davone Bess and split end Brian Hartline start week one, Johnson has the talent to surpass them for receptions, yardage, touchdowns and playing time as long as he is focused. Though the Dolphins do have questions at quarterback, they are also likely to be playing from behind quite often this year, which will mean more pass plays and three-receiver sets. I'm guessing Johnson's stats will resemble what he did in 2010 (67 receptions for 831 yards).
Randy Moss ranks 2nd in Pats history with 50 receiving touchdowns
Another veteran receiver looking to bounce back this year is Randy Moss, with the San Francisco 49ers. Moss did not play at all last year and had just 28 receptions for 393 yards with three teams in 2010. I'm always a bit leery of placing much credence on reports from OTAs and training camp, but Jim Harbaugh recently said that Moss was the team's best receiver right now. Harbaugh seems to be committed to improving his team's offense: along with Moss they added WR Mario Manningham and RB Brandon Jacobs in free agency, and WR A.J. Jenkins and RB LaMichael James in the first and second rounds respectively of last April's draft. WR Michael Crabtree has been a bit of an enigma ever since his prolonged holdout in 2009, and has now missed some time with a lower leg injury. Crabtree should be the 49ers top wideout, but you never know if at some point they may get weary of dealing with him. I think Moss will have a decent year, but the 49ers are still a ball control offense that is not going to throw the ball as often as other teams do. Add in all the competition that Moss has for a limited number of receptions and I would guess that he'll end up with about 40-50 receptions for about 700-750 yards.
Matt Cassel looks to bounce back from a disappointing 2011 campaign
Matt Cassel had a forgettable 2011, going 4-5 as a starter with just ten touchdowns and nine picks, and spending the last half of the season on Injured Reserve. Cassel has been up and down in four seasons as a starter. In 2008 he threw 21 touchdowns to 11 interceptions, completing 63% of his passes for 3693 yards as the pats went 11-5. In his first year in Kansas City he threw as many interceptions as touchdowns (16) and the Chiefs won just four games. Then in 2010 Cassel threw 27 touchdown with just 7 interceptions, got rid of the ball quicker (sacks dropped from 42 to 26), and was named to the Pro Bowl. With RB Jamaal Charles returning from injury and Dwayne Bowe presumably ending his holdout soon, I would expect Cassel to have a much better year than last year – say, about 22 TD/11 INT with 3700 yards.
Does Ron Borges still believe the Pats should have drafted David Terrell or Koren Robinson rather than Seymour?
Richard Seymour made the Pro Bowl for the second straight year in 2011, despite the Oakland Raiders defense ranking 29th in yards allowed, 31st against the pass and 27th against the run. It was the 7th Pro Bowl in his career, despite recording only 23 tackles. The 32 year old lineman is set to make $15 million this year, which should help ease the pain of playing for a team that has not had a winning season since 2002.
Asante Samuel had 3 interceptions in 2011, his lowest total since 2004
Asante Samuel was part of what was supposed to be the dream secondary on the Philadelphia Eagles' 2011 Dream Team, but it was more like a nightmare. Part of the problem was that none of the corners – Samuel, Nnamdi Asomugha and Dominique Rodgers-Cromartie – could play inside against slot receivers. Samuel is now in Atlanta, looking for a fresh start after a dysfunctional season in Philly that allegedly included failed attempts to trade him during the season, hindered in part due to the $21.5 million he was scheduled to make in 2011 and 2012 when he was an Eagle. The 31-year old corner may not be quite as fast as he was when he was with the Patriots, but he still has the skills to improve Atlanta's pass defense and third down defense. I think his days as a Pro Bowler are over, but he'll be a welcome addition to a team in a division that faces Drew Brees, Cam Newton and Josh Freeman and their offenses twice each every year.
There are several other former Pats players that may and up being solid contributors to their teams as well this year, such as OL Ted Larsen (Tampa Bay), S Brandon Meriweather (Washington), S James Sanders (Arizona), KR Brandon Tate (Cincinnati), TE Ben Watson (Cleveland), CB Darius Butler (Carolina), WR Taylor Price (Jacksonville), CB Antwaun Molden (Giants), and LB Gary Guyton (Miami) – though I would not expect any of them to have as much of an impact as the seven players listed above. And of course there are free agents such as Andre Carter as well – though hopefully he would end up back in Foxboro and not with another NFL team if and when he is ready to resume playing.
So who is going to have the biggest impact in 2012? I'm going to say BenJarvus Green-Ellis. Agree, disagree? Did I leave anyone off this list?
Follow on Twitter @AllThingsPats
---