Adam Schefter of the NFL Network has reported that the New England Patriots have brought in two veteran free agent running backs to Foxboro for visits: Ryan Grant and Tim Hightower.
A while back I looked at the free agent options at RB to replace BJGE and my viewpoint is still the same. Since that time Michael Bush and Kevin Smith have signed elsewhere, leaving Hightower as one of the best options, if not the best option available for the position.
To me one of the biggest things to look at when considering a veteran running back is how much use they have had in their career. We have seen many running backs take a sudden and dramatic fall in production many times, seemingly without warning. Larry Johnson, Shaun Alexander, Priest Holmes, Ricky Watters, and many others have gone from being a stud running back one day to being out of a job practically overnight in recent years. The common thread is overuse: each of these players were subjected to far too many hits due to getting well over 300, and often more than 400 touches in a single season. A player tackled and hit from multiple directions that often just isn't going to last very long.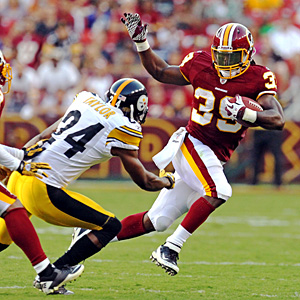 That is precisely what I like about the idea of adding Tim Hightower. Not only is he still young (turns 26 next month), but he has never been overused: his career high for rushing attempts is only 153. He has good size (6-0, 226 lbs) for short yardage and goal line situations to fill the void left by the departure of BenJarvus Green-Ellis. In addition he is better than BJGE as a pass receiver; in 2009 he had 63 receptions. With Kevin Faulk most likely not returning the Patriots could really use a running back that is capable of gaining some yards on a screen pass.
Hightower is coming off a torn ACL, so obviously there is a medical concern there. However, his injury was relatively early in the season (in October), and he immediately had surgery and began rehab. There's no reason to believe that he should not be ready to go when the season kicks off in September. The one knock on him was a fumbling problem when he was in Arizona, but that seemed to be resolved last year in Washington prior to his injury.
Ryan Grant is probably a better known name with his back-to-back 1,200-yard seasons but to me he is another example of a running back that may be all used up at an early age. In 2008 Grant ran or caught the ball 340 times, and then followed that up with 320 touches the following year. The following year was lost due to injury (surprise, surprise), and last year Grant was limited to 559 rushing yards. Another warning sign: Grant will turn 30 before the season is over. Even though his career totals (less than 1000 career rushing attempts) indicate he still has a lot of tread left on the tires, I would be very hesitant to count on Grant for much at this point. As long as Hightower can pass the medical staff's scrutiny then he would be my preference as a roster addition.
Of course all of this may be a moot point and nothing more than the Patriots doing their due diligence, and getting some prep work out of the way should they need to add a running back at some point due to an injury. I think the time to sign one of these players would be now, before the draft. There will likely be some team out there that was unable to draft a player they were targeting and their Plan B will be to sign one of these veteran free agents.
Follow on Twitter @AllThingsPats
---