Before getting to the obligatory five reasons to watch the Patriots – Chargers game, I just wanted to give a quick shout out to jcdavey, lightningbolt and any other Charger fans that I may have overlooked that helped out with some insight about the San Diego team and Sunday's matchup on the PatsFans.com message board. Fans like these can offer analysis that goes beyond what you can read from opposing team beat writers like Kevin Acee, and it's a welcome relief for those that yearn for an intelligent football discussion between fans of rival teams – as opposed to 99.9% of what is typically seen and heard today.
I realize Boston College is missing RB Montel Harris, but come on: an 0-3 start against Northwestern, Central Florida and Duke? Actually a loss to UCF should not be unexpected; even though the Golden Knights have almost no college football history other than Daunte Culpepper leading an upset over Alabama eleven years ago, they're a legitimate 1-A team at this point. Duke hasn't had a decent team since Steve Spurrier was their coach more than twenty years ago and the last time they were ranked in a final poll Marilyn Monroe was singing Happy Birthday to JFK. Northwestern just lost to Army and hasn't won a bowl game since World War II, so spare me any rebuttals about some recent bowl appearances; how many teams play in a bowl game each year now, sixty, seventy? Right now it looks like the Eagles only chance for a win this season will be in the next two weeks with home games against UMass and Wake Forest. After that it's on the road at Clemson, Virginia Tech and Maryland; home against Florida State and NC State; and then back on the road at Notre Dame and Miami. I would be shocked if this is not their first losing season since 1998, and they could have double-digit losses for just the second time in school history.
Pats' bargain of the week: Brand new 2003 Yearbook available for $1.00: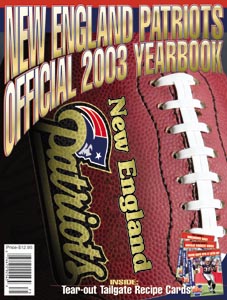 In case there was any doubt about debates being contrived and planned ahead of time in a production meeting prior to a show airing, consider this: there are ten espn 'experts' that offer their opinions for the record on each of the sixteen games, minus Ron Jaworski not picking a winner for the MNF game for which he is one of the announcers. In nine of those sixteen games all ten go with the favorite, and in not one of those games does more than three of the panelists choose the underdog – even though the team favored to win did so in just ten of last week's sixteen games. Overall they combine to go with the dog in their selections just fifteen times out of 159 selections, despite plenty of games (Eagles at Falcons, Browns at Colts, Bucs at Vikings, Cowboys at 49ers, Texans at Dolphins, Raiders at Bills, Bengals at Broncos) that could easily go either way; even the Bears at Saints is a clean 10-0 sweep for New Orleans. But I'll bet this past week as well as Sunday morning there was/will be close to a 50-50 split on television when it comes to predictions for these games.
While on the subject of being overly cautious of not sticking one's neck out, can we please retire, or at least downgrade the hype on this phenomenon known as Power Rankings – especially this early in the season?
One last espn observation: there was a lot of buzz about the supposed tell all book, 'Those Guys Have All The Fun' that was published earlier this year. I'm about 200 pages into it – the book is over 700 pages long, it's not something most people will polish off in one night – an frankly I'm disappointed so far. The biggest thing that I'm coming away with the book so far is that this romanticized version of espn being this little tiny upstart at the beginning of their history is way overblown. From before their very first broadcast they had big bucks (Getty Oil) funding them, as well as very many big name television executive talents on board. I'm finding it reads like a case study for a business school class, and the so-called shocking revelations are not really noteworthy.
If you had asked me a few years ago about what I thought about the idea of the Colts having to go through a season without Peyton Manning, within a nanosecond my response would have been something along the lines of "hell, yeah!" But right now I'm (shoot me) wishing that he was playing this weekend. Twenty years from now we're all going to look back on the Brady/Manning and Pats/Colts battles of the last decade with reverence, and wish that there were more of them.
NFL Picks
I expected the first week of the NFL season after the lockout to have some surprises and it did; shame on me for not going with more underdogs. But this week I almost feel like walking away and making no predictions at all. The Steelers get crushed, but they'll bounce back at home against an inferior opponent; easy bet, right? Ehh, I don't know; you sure you want to wager your hard earned money on a team that lost by four touchdowns last week to win by more than two touchdowns this week?
Packers (-10) at Panthers, 4 units
Lions (-9) vs Chiefs, 4 units
Ravens (-6) at Titans, 2 units
Eagles at Falcons under 50 ½, 1 unit
Rams (+6) at Giants, 1 unit
Bengals (+3 ½) at Broncos, 1 unit
Bears (+6 ½) at Saints, 1 unit
Bills (-3) vs Raiders, 1 unit
Redskins (-3 ½) vs Cardinals, 1 unit
Vikings (-2 ½) vs Bucs, 1 unit
Teaser: Packers (-4), Lions (-3), 3 units
The rest:
Bears at Saints over 47
Chiefs at Lions under 45
Jaguars (+9 ½) vs Jets, over 38
Raiders at Bills over 42 ½
Cardinals at Redskins under 44
Ravens at Titans over 37 ½
Seahawks (+14 ½) at Steelers, under 40 ½
Packers at Panthers over 45
Bucs at Vikings under 41 ½
Colts (+3) vs Browns, under 39 ½
49ers (+3) vs Cowboys, over 42
Texans (-3) at Dolphins, under 48
Chargers (+7) at Patriots, under 53 ½
Bengals at Broncos under 40
Falcons (+2 ½) vs Eagles
Rams at Giants over 43 ½
The Official GITGH®™  'Who To Root For'© List (Reader's Digest condensed version):
Pats, obviously, to beat the Chargers
Jets, obviously, to lose to the Jaguars
Division opponents Miami (vs Houston) and Buffalo (vs Oakland) to lose
Conference contenders Baltimore and Pittsburgh to lose
Draft pick traders New Orleans and Oakland to lose
Oops, Conflict: Bills are no threat; root for the Raiders to lose
No interest: all NFC games, AFC non-contenders
I don't know which was a bigger brain cramp last week: Tony Romo's decision-making in the 4th quarter of the Cowboys game against the Jets, or the Cleveland Browns Steamers defense collectively falling asleep for a game-sealing touchdown in the final minutes of their game against the Bengals. While Romo's gaffes drew more attention, that was just one person; for Cleveland that was a synchronized team effort by the eleven players on the field plus the coaching staff.
Speaking of coaches, my guess is that Todd Haley will be the first NFL coach to be fired this season. Or is that an unfair bet? Maybe the choice should be what happens first: Haley getting canned, or Romo getting benched?
I was going to say something last week about Lee Roy Selmon after he passed away and decided not to since this is a Patriots' fan site. That was a mistake I am going to fix now. I think it is worth noting that nearly all the talk about Selmon has been about what a wonderful person he was, and not about his accomplishments as a football player. That to me really speaks volumes, because we're talking about a Hall of Fame player. His sack totals may not look that gaudy but keep in mind he was a defensive tackle; had he been moved over as a 4-3 DE he probably would have had 25 or more sacks per year, he was that dominant.
What kind of a person was he? Consider that as a youth he had been taught to respect his elders; he took that so much to heart that when his teacher at school told him he was spelling his name incorrectly – she told him it was Lee Roy, not Leroy – he not only refused to challenge her but he also did not let his parents know.
There are about 30 restaurants in the Tampa area bearing his name, and although they are owned and operated by the same company that owns Outback and other restaurants, Selmon took it upon himself to be personally involved with the workers. Selmon met one restaurant manager and his wife at a gathering once, and whenever he met that manager in the future he made it a point to ask about her by name, with genuine interest in how she was doing. Sometime later that manager left for another opportunity, and time passed. Years later that person's wife passed away in an automobile accident. A few weeks later Selmon found out from a conversation with another manager. Even though he was no longer an employee and had moved, Selmon found out where he was and sent along a two-page hand written note with his condolences as well as inspiration and support.
Former teammate Jimmie Giles summed it up best: "Lee Roy's legacy is he's the most peaceful man you'd ever want to meet. Every time you were around him, he made you feel better." Anybody that had a chance to know Selmon is a better person because of it.
Oh yeah, those obligatory reasons to watch today's game? Here you go:
Enjoy the game everyone.
---