Today the New England Patriots announced the three finalists for this year's team Hall of Fame voting.  They are defensive lineman Houston Antwine, quarterback Drew Bledsoe, and head coach Bill Parcells.  The finalists were chosen by a panel of media members that cover the Patriots this past month.
And unfortunately it already appears that the most deserving candidate is getting almost no consideration.
While the bulk of the commentary by both fans and the media focuses on 'Parcells or Bledsoe', there is virtually no discussion  about Houston Antwine – and that's a shame.
Houston Antwine played in 142 games over eleven seasons for the Patriots. 270 pounds may not be big by today's standards, but in 1961 it was; he was a man among boys, constantly commanding double or even triple teams by opposing offenses.  He wasn't just some big heavyweight though; Antwine was extremely athletic – using skills he had acquired as a collegiate wrestling champion.  Antwine was not only strong but very quick on his feet, and nearly impossible to move out of the middle.   He was also a well-rounded, versatile player; devastating against the run, but also tenacious on his pass rush, totalling 39 sacks in his career and leading the Pats in sacks three straight years.
Antwine was an AFL All-Star six straight years, and was named to the All-Time All-AFL Team.  Now stop and think about that for a second.  If a player that was named to the NFL's all time team of the decade for say the 1990's or 2000's that also went to six consecutive Pro Bowls was up for a nomination to the Patriots Hall of Fame this year, would there even be any discussion as to whether or not he should be voted in?  Probably not.  Yet Antwine earned identical honors that just so happened to be at an earlier time.  Why should he be penalized for playing in an earlier era?
The obstacle that Antwine faces is that most of those in the media writing about this vote are too young to have seen him play.  They write the articles and then fans follow the lead and discuss.  For example Ian Rapoport in his column in the Boston Herald starts off by saying "(w)ith all due respect to AFL star Houston Antwine, who is a nominee for induction into the Patriots Hall of Fame for the third time, it's hard to imagine him getting the lion's share of attention especially with the first-year candidates Drew Bledsoe and Parcells now in the mix, and pitted against each other."
I understand that most attention will naturally be focused on those two; but immediately dismissing Antwine simply because the other two are more fresh in our minds is sad.  How about enlightening the audience about Antwine's credentials, rather than implying that he deserves no consideration?
At least Rapoport started off his column by mentioning Antwine.  Mike Reiss, considered by many to be the dean of the Boston media gave Antwine even less thought – devoting just the last two sentences in an eight-paragraph column and focusing strictly on Bledsoe over Parcells in another.  The only columnist that gives Antwine equal consideration and bothers to mention more than a couple of words is Tom Curran.
I do understand that the natural inclination is to look at the most recent events, those that are freshest in our memories.  And I do appreciate very much what Bledsoe, and to a lesser extent Parcells did for this franchise.   But the more I try to look objectively at the credentials of all three, the more convinced I am that Houston Antwine is the right choice.
Don't hold the fact that he has been nominated but not voted in three times against him.  You wouldn't keep Babe Ruth off a list of baseball's all-time greats just because he played before you were born, would you?  Then by the same measure, don't dismiss Antwine for that very same reason.
You can click here to cast your ballot, but hopefully you will think long and hard about voting for the most deserving person: Houston Antwine.  One vote per IP address.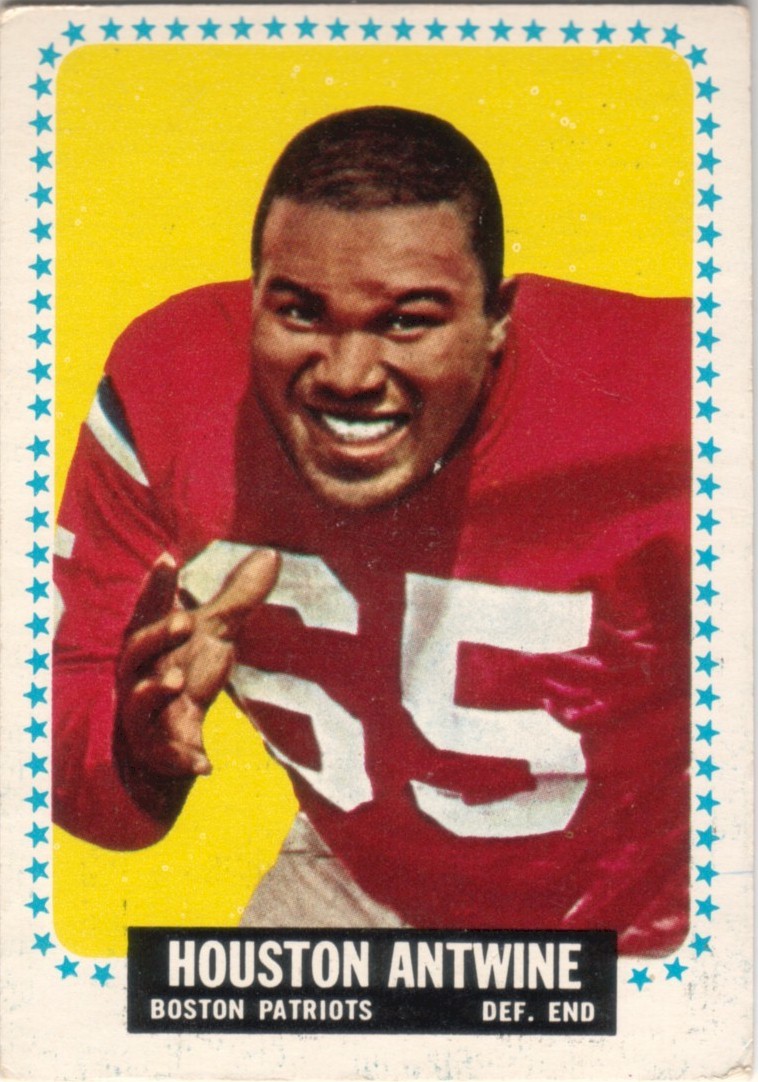 ---